Luke's Wolfe Creek blog in August was so entertaining that we asked him to put pen to paper again on his next journey. Turns out, we didn't have to wait long. Luke's journal continues … (the story started with On the Road Again)
Luke Crosses the Nullarbor, Day 3
We woke up, we packed up and we were off. Soon we reached Eyre highway and for the last Kilometre we were accompanied by a huge 50-strong mob of kangaroos that bounded alongside us. We got to Madura and topped up our fuel and coffee. The last 100 km on the highway to Mundrabilla flashed by, interrupted by a series of zebra crossings … No, that's not quite right. They are in fact markers for aeroplanes. The road doubles as an emergency landing strip.
We got to Mundrabilla safely and dropped off our parcel of poetry before heading to the ridge that marks the beginning of the Nullarbor Plain. It wasn't too tricky to fix our camera, which was largely behaving itself except for some issues with the internet. We've all had those.
Our next camera was at Forrest Station, along one of the worst roads in the Nullarbor. I say road, the outback is incredibly generous with its route titles. It's like driving across a … You know, I can't actually think of anything worse to drive on, a lava flow maybe? A cliff? We went on at snail's pace and had a nice lunch by a sinkhole finally arriving 4 hours later at Forrest.
We checked into Forrest, dumped our gear and headed down to the camera site. The wind was howling but no storms were brewing (thankfully!). I went to fill up the batteries with distilled water, and had to put my hand through a flap to unlatch the door … living in Australia for some time now, I know this is not the wisest move one can make. However when I lifted the flap I heard some flapping noises from inside. Confused, I carefully reached in and unlatched it … and when I opened the door a peregrine falcon whooshed over me, nearly taking my head with it!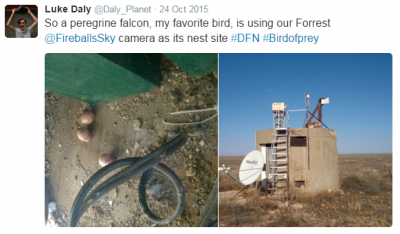 The camera servicing went smoothly; just a quick change of the hard drives and a clean of the lens. We could have pressed onto Hughes but the temptation of beds, showers, dinner and other humans at Forrest Station was too tempting (particularly the shower part – it's amazing how dirty one gets after just three days and just how good a cold shower feels in 35°C heat)!
A lovely meal with our hosts Mark and Sandy and a few pilots who had flown in that day (Forrest is also an active airfield) finished off our day. We turned in early as we had a long drive tomorrow.
Luke's blog continues with Luke Crosses the Nullarbor, Day 4.