Luke, Martin and Jarryd head off to Wolfe Creek meteorite crater in remote WA last week. The plan is to make a 3D image of the crater using a drone, map the crater, take some samples (to analyse for shock or melt glass and confirm the date of impact) and combine it all to make a virtual fieldwork laboratory so you can zoom around the crater looking at various rocks and features.
Luke journals the adventure …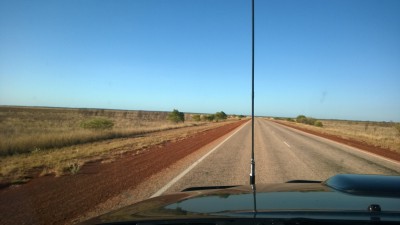 Dear diary,
So, after one day of driving, covering 1,100 km finishing just shy of Newman, with a full moon rising in perfect synchronisation with the setting sun, we are still alive!
Although we haven't made it to Wolfe Creek yet …
It seemed to be the consensus of everyone I've mentioned this trip to, that we would experience inevitable horror/ thriller style traumatic events. These would be followed swiftly (but with appropriate time to build dramatic tension) by the event of our grim deaths at the hands of a solitary madman in the Australian outback.
I am delighted to report that we have not had any unexplained punctures, been stopped by burned -out cars and our watches are all behaving normally. In fact, the only weird occurrence was that donkey a few kilometres back that just wandered into the road in front of us. Connoisseurs of this genre will be quick to point out these films always start with the harmless honeymoon period, where the soon-to-be victims are having fun. These moments are designed to make you care about what happens to them next (which you know will happen, since you were forced to show your ID for before getting into the cinema). Well, hopefully now you care about us.
I protested that the movie that has inspired this prophecy lacks the essential 'e' at the end of 'Wolfe' to be geographically related. It did not, however, dissuade the gleeful warnings. There was much less excitement shown when I explained we were following in the footsteps of great meteorite impact pioneers like Barringer and Shoemaker. Or that we are going to fly a drone over the crater to create a 3D image. A crater formed by a meteorite impact 300,000 years ago.
Nope, they were much more excited about a gory death.
The closest we have got to anything like that so far is what we did to tonight's damper. We should be put away for that! The poor thing never stood a chance – half of it was raw while the other half was cremated. Nothing should have to suffer like that.
Off to the land of nod now, stomach full of charcoal the quality of which our dwindling fire can only dream of.