Luke's Wolfe Creek blog in August was so entertaining that we asked him to put pen to paper again on his next journey. Turns out, we didn't have to wait long. Luke's journal continues … (the story started with On the Road Again)
Luke Crosses the Nullarbor, Day 7
We had two cameras to service before our rendezvous with the second team, so there was lots to do. We got to Northwell relatively fast and were greeted by a very excitable dog.
We went up to Northwell camera site and well, this is the nightmare child of the DFN. Maybe it was born under a unfortunate set of stars, maybe its mother dropped it on its head as a child, but whatever the reason this camera has been completely recplaced five times in five servicing visits.  As we left I think I heard the replacement camera protesting.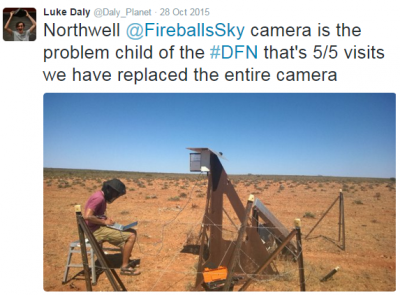 I polished the lenses and act as a fetcher for whatever Martin needs and there my usefulness ends, so I had plenty of time to take in the scenery in the 2 hours we were there.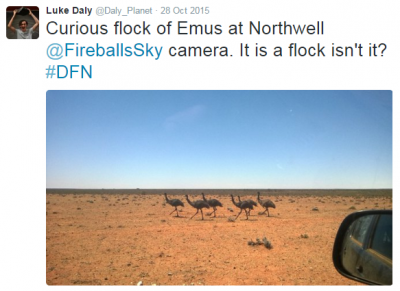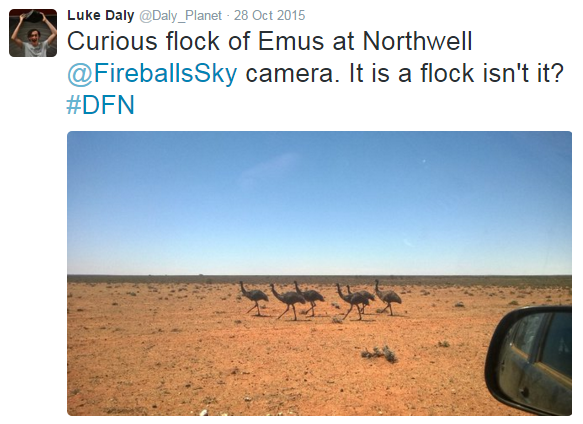 The road to Ingomar camera was the same, comforting red gravel bumpy track that keeps chiropractors in business. The camera was fine. Unfortunately, the internet provider had taken down their local signal tower in the area so the camera was now offline. Fortunately, we had brought a more powerful antenna to install. Unfortunately, both the wires had male connectors. We gave the camera the usual treatment and made a note for the next visitors to Ingomar. Off again to Coober Pedy to meet up with the others who were well on their way.
Martin and I met up with the rest of the crew in Coober Pedy (although it should be noted that we got there first) and the team was now assembled.
Introducing:
Phil Professor, Dr Meteorite, Mr DFN, the Boss!
Ellie, studying for a PhD in meteorite mass calculation, geophysiscist (the one we blame if we don't find it)
Sarah, studying for a PhD in geology, general DFN groupie
Rob, studying for a PhD in engineering, camera builder, techie and token Australian
Trent, not even yet studying for a PhD in satellite tracking (but he will be!), token Australian (it was buy one, get on free)
Martin, Wizard troubleshooter software techie
Luk, studying for a PhD in meteorite geology, sample analysis (what sample?!), blogger, probably most expendable
Luke's blog continues in Luke Crosses the Nullarbor, Day 8