Want to get a taste of what it's really like out in the field? Ellie Sansom, one of the PhD students working on the Desert Fireball Network, has written about her experiences on the most recent field trip to the Nullarbor in October 2013. Ellie, Robert, Phil, Martin T and Martin C all travelled out into the desert together, to replace and service some of the cameras, and search for a newly fallen meteorite… Read on – you might be surprised what our scientists get up to out in the bush!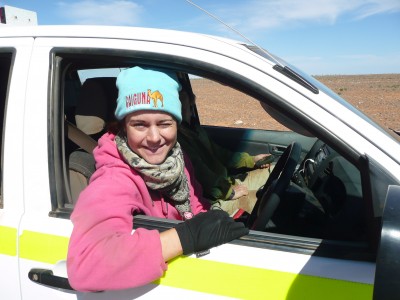 22/10/13- Left Kalamunda at 8am. Stopped for petrol and a breakfast pie after an hour or so. The dirt tracks started and we stopped for a snack at Lake Johnston before arriving at Norseman for more fuel. The salt lakes around here are gorgeous where the sediments are rainbow coloured from red to blue and all sparkling with salt. Had a delicious curry at Balladonia and had a wander around the museum with some Skylab relics. Drove on to a road-side campground and spotted a few small shooting stars and even a few fireballs.
23/10/13- Woke around 6am to tea brewed by Phil. Had a trucker's breakfast at Caiguna and then not far to Mundrabilla and the first camera station at 11:30am. The old camera came off and the new one went on rather swiftly. It then took a bit of connecting up and testing. As the mining vehicles we were renting did not allow the headlights to be turned off we had a little accident with the batteries but we got them sorted faster than we were expecting. We stayed at the Mundrabilla station for the night which was rather luxurious. We cooked ourselves fajitas and had very comfortable beds for the night.
24/10/13- Had a relaxed breakfast then checked the camera at Mundrabilla once more before heading on to Forrest. We stopped at some limestone sink hole on the way which was really neat. The new camera was set up again. I had the job of checking the large batteries, finding supplies in the ute and making lunch. Testing took most of the afternoon and we stayed the night in Forrest.
25/10/13- Long drives are starting to feel very quick. We got to the fall line (the place where we reckon the meteorite fell) it seemed in no time at all around lunch time. Drove along to see if we could see anything from the vehicles. We then set up camp and had some lunch. We started a search line and walked for about three and a half hours. There were quite a few pieces of dark weathered limestone that we kept finding excitedly thinking they were meteorites. They were rather small pieces so it goes to show how well we were covering the area. This afternoon there were quite a few scrubby bushes to look around and by 5pm the shadows they were making on the ground were hindering our searching abilities so we headed back to camp. Watched a gorgeous sunset while eating lamb chops and headed for an early bed around 8:30 pm.
26/10/13- Up at 5:30am with the sun. Started our searching from the camp after breakfast. My legs were killing me by 9:30am. The ground was very bare and we could each easily see clearly about 50-100 m away. We searched until 11:30am. Had a very relaxing lunch and had a few cups of tea and a lot of water. Started off again at 1pm with a very hot sun. Phil found half a tektite. There was a huge dust and wind storm on the horizon so we went home early at 4pm and had to hold onto the tent as it passed. Saw a few camels on the horizon. We've each walked 14 km today! Had some delicious pesto pasta. Sat around with tea watching the stars.
27/10/13- Achy and painful legs. Phil cheered us all up with bacon and eggs. Searching again all morning. Had some tuna sandwiches for lunch. Tried a little random search down the 100 g end just in case and found a few "meteor-wrongs". Another exhausted evening around camp.
28/10/13- Feeling great this morning. Rob and Martin C. continued the search from where we'd left off yesterday and the rest of us decided to widen our search area up the larger end by vehicle. Phil searched, I drove and Martin T. navigated as we couldn't see our own tracks unless we accidently crossed them. We could see a 1 kg + meteorite from 100 m away though as proved when Phil spotted a very old rusty drink can about 150 m away. We had some discussions on ideas for searching large areas for large mass objects. We picked up the others for lunch and did the same thing during the afternoon. Phil found a meteorite! It wasn't the fresh one we were looking for but it was still one nonetheless. Bangers and mash for dinner. It was quite a cold night so wrapped up in swag for first time.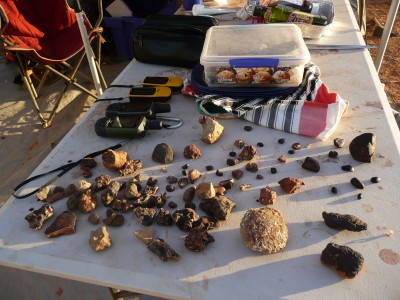 29/10/13- Was cooking in my swag by morning as I was wearing so many layers. It was still chilly outside though and drove around in a beanie hat during the morning. We widened the search to the south in the vehicle as that was the most likely direction given the winds at the fall time. When we met the other two at lunch they had found two more old ones… fantastic! Decided that if we didn't find anything during the afternoon we'd move on tomorrow to install the next two cameras. No luck this afternoon until Martin C. found a large one right at the end (still an old one but very interesting looking with nodules).
30/10/13- Packed up camp. We all went for a vehicle search to fill in a few gaps we may have missed. I was trying to get some cool video shots of Phil and Martin when I turned and saw a daytime fireball! It was amazing! It was really bright and there was a large flare at the end. Rob saw it as well. As Phil said "it was a daytime fireball…that's  a once in a lifetime observance! It's like seeing a unicorn mate!" Turns out later that it all got caught on the video camera! How amazing! After all that excitement we drove back to Forrest, finding it very hard to stop searching for meteorites out the window. Managed to get half-way to Kybo. The drive is immensely slow as the road is very rocky and we didn't want to puncture any tyres.
31/10/13- Bacon and eggs again this morning. Really rocky drive to Kybo. Had a bit of a sing-along in the car. The Kybo camera was installed very quickly. It only took about 2 hours. Left around 3:30pm and drove until almost sunset. Grilled courgettes for dinner, and Martin C. carved a mini pumpkin for Halloween!! Am really looking forward to a bed again and not being caked in dirt.
1/11/13- Woke around 4:30am and sat around with tea. Set off for Kanandah. The new camera was installed but was having power issues so we took it off again and installed our spare camera. After that passed its tests we drove all the way to Kalgoorlie after having to stop to refuel the ute. It was very strange driving with other traffic around again. We made it to the Coolgardie Motel and had dinner in all covered in dirt and were mistaken for miners. Had to have a long shower to get off the thick dirt and dust and still I was wiping orange off with my towel.
2/11/13- I drove my last 200 km and then we swapped for the last 250 km back home.  Very happy to be home but also very sad to have to get back to reality.