The Desert Fireball Network continues to grow, and over August and September it's been spreading into South Australia. The aim is for it to eventually record the night sky above one third of the area of Australia, focusing on the places where there's the least vegetation and settlement.
During the first trip, Martin C and Jimmy installed five cameras – and set a high record to beat!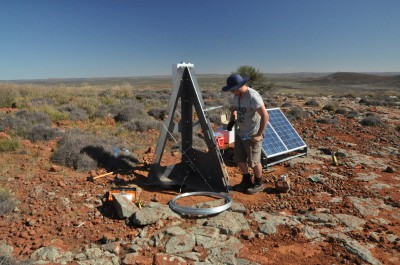 The first installation at Gum Glen was easy, it's just nearby the shipping container where the cameras, stands and tools are being stored.  That was followed by two sub-trips where they deployed two cameras each – first Mount Ives and Kondoolka (West of Port Augusta) and then out to Nilpena and Wilpoorinna (North East of Port Augusta).
We're too late to capture an image of the meteorite that caused the impact crater West of Port Augusta, now called lake Acraman. The crater is well eroded, and estimated to have occurred more then 500 million years ago. Images are more can be found at the Earth Impact Database.