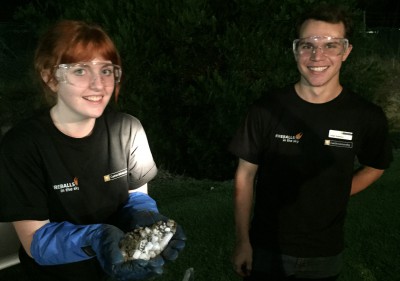 Upcoming events
ASTROFEST 2016 – Saturday 12 March starting at 4:30 pm
Science Awareness Festival Geraldton 30 and 31 March 2016
Astro Rocks Fest Mt Magnet – 13 May 2016
National Science Week  – 13 – 21 August 2016
Past events
National Science Week  – 15 – 23 August 2015
Free talk – State Library of Western Australia, 15th August 2:30 pm
Coffee at the Crater – Yallalie Crater, 18th August 8:00 am
Free talk – Kalgoorlie Museum, 19th August 5:30 pm
Premier's Science Awards presentation ceremony, 20th August
Pecha Kucha Broome, 2 September
Australian Space Research Conference, Canberra, 28th – 30th September
Check out where our traveling library exhibit is now!
Astro Rocks Fest Mt Magnet – 22 and 23 May 2015
Asteroid Day 30 June 2015
CONASTA 6 – 8 July 2015
National conference for science teachers and lab technicians
Curtin Open Day – 2 August 2015
Science Awareness Festival Albany 5 – 7 May 2015
Includes school talks and expo, general public event and teacher professional development workshop
ASTROFEST 2015 – Saturday 28 March starting at 5:30 pm
Free event at Curtin University Stadium with activities such as viewing the night sky through telescopes, astronomy talks, astrophotography competition, water rockets and Scitech shows.
Find out more about what we'll be doing at Astrofest here 
The Shire of Kalamunda are hosting a Guiness World Record attempt for the Largest Astronomy Lesson on Saturday February 28th (one month before Astrofest).
Family-friendly event under the stars with food stalls, picnics, performances and talks from astronomers before the main event: the astronomy lesson. Starts at 6:30 pm at Maida Vale Nature Reserve. Register on their website so they know how many to expect.
Professor Phil Bland is giving a talk at the Disrupted Festival of Ideas – Sunday 2nd November
Earth Science Month at the Esperance Show (17, 18th October) and Fremantle Markets (26th October)
Come and get your hands dirty with all things Earth sciencey, including dissecting meteorites and experimenting with sand castles!
Come and check out the Fireballs in the Sky display at the Kalgoorlie Town Hall until September 30th 2014
Australian Museum Science Festival
Visit the Fireballs in the Sky display at the Australian Museum in Sydney during
A number of the DFN scientists will be attending the 77th Annual Meeting of the Meteoritical Society in Casablanca, Morocco
Perth Science Festival – 16th August 2014
Curtin University Open Day – 3rd August 2014
45th Lunar and Planetary Science Conference – 17th – 21st March 2014
National Science Week Launch – 10th August 2013
Astrofest – 16th February 2013